Harness Review Celebrates 20 Years
The dedicated harness racing radio program "Harness Review" a recipient of numerous awards, will celebrate 20 years of continuous broadcasting at 979fm this October.
Initiated by the Metropolitan & Country Harness Racing Association (MACHRA) – the oldest kindred body associated with the sport in Victoria to promote harness racing in general, Harness Review with hosts Len Baker and Roger Meulan first went to air as an experimental half hour program on Community Station Bulla fm at 6-30pm one Sunday in August 1993 with Chris Alford and David Miles as special guests, before being approached by what was then Melton fm with a request to transfer the program to the Melton studios.
Following a short term presentation at Bulla, Harness Review then successfully commenced at Melton fm (now 979fm) as a half hour weekly program, before in time being extended to one hour, then an hour and a half, before extending again to its present two hour format.
Produced and hosted by Melbourne Harness Racing Media personality Len Baker since first going to air, Harness Review had had numerous co-hosts over the years including Roger Meulan, Jeffrey Hurley, Bob Turnbull, Dr Mervyn Williamson and Dean Lewis, with present co-hosts Clinton Welsh, Alexandra Hurley and Brian Dobson alternating each week.
Clinton in particular has been a stalwart of the program.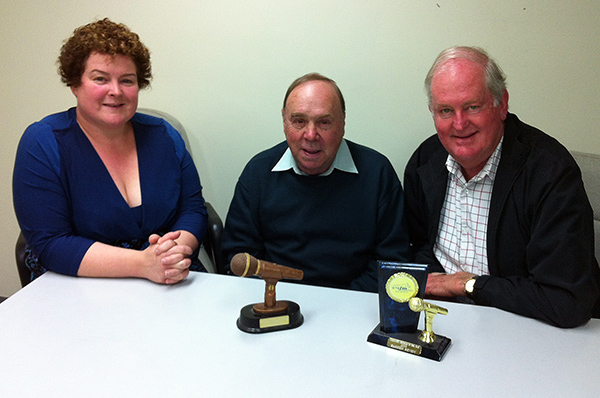 From left to right, Alexandra Hurley, Len Baker and Brian Dobson 
The program has conducted over 8000 interviews with owners, trainers, drivers, members of the media and harness racing officialdom throughout the world since its inception.
Heard every Monday between 8-00 and 10-00pm over the airwaves of 979fm from their Victoria University based studio in Melton and through the world wide web at www.979fm.com.au, Harness Review features a four state review of the previous week's interstate racing with regular presenters Tony Lawrence (S-A), Matt Robertson (Tas), Craig Rail (Q'land) and Robbie Dewar (W-A), plus an occasional NSW review/preview courtesy of Fred Hastings.
Usually four to five additional guests take part in the program each week.
Essentially a talk back program full of news, views, interviews and regular competitions, Harness Review is indebted to 979fm for their continued support of the program.